Directory Sign Up
Use the button below to sign up for a time to get your picture taken for our new directory.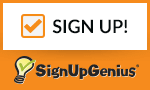 Email List (Prayer Chain)
You can sign up to receive emails from us by clicking here. Most emails we send are prayer requests from our church family.  You can choose what categories of emails you would like to get on the form.
Online Directory
We also have an online church directory available for members at Union Hill.  You can access it by clicking here, following the "Need a Login?" link, and entering the email address we have on file at Union Hill.  If you have trouble signing up, please contact us via phone or email. Smartphone users can then download the ACS Church Life app and use the login you created to access the directory on your phone.